ABOUT HIM OR HOW HE DID NOT FEAR THE BEAR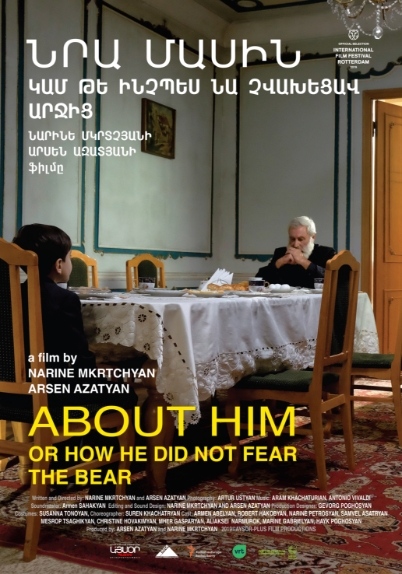 A FILM BY NARINE MKRTCHYAN and ARSEN AZATYAN
ABOUT HIM OR HOE HE DID NOT FEAR THE BEAR
Directors' Notes
This film is based on real events. The main incident is the chilling massacre carried out by a Russian soldier, whom we have named Ivan Povarenko, which causes unrest among a whole nation.
This story was such an emotional one for us that we created our own version of how the events developed and the conclusion to which they reached.
This film is about dignity, which is the most vulnerable possession anyone can have – irrespective of ethnic belonging, social status or situation. It is dignity that forces one to take action of any kind, to disagree with stereotypes, to consider violence unacceptable and, finally, dignity is the guarantor of freedom.
…We often make sacrifices in order for justice and dignity to be restored, but those sacrifices are not always ones that the Almighty would justify.
ABOUT HIM OR HOE HE DID NOT FEAR THE BEAR
Narine Mkrtchyan, Arsen Azatyan
International Film Festival Rotterdam 2019
Narine Mkrtchyan, Arsen Azatyan
AYSOR-PLUS FILM PRODUCTIONS
Aysor-Plus Film Productions
Narine Mkrtchyan, Arsen Azatyan
Nariné Mkrtchyan, Arsen Azatyan
Armen Abelyan, Robert Hakobyan, Narine Petrosyan, Samvel Asatryan, Mesrop Tsaghikyan, Mher Gasparyan, Aliaksei Marmurok
Aram Khachaturian, Antonio Vivaldi
Narine Mkrtchyan, Arsen Azatyan